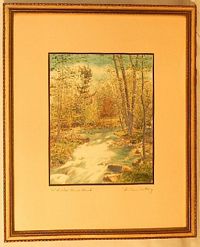 Exterior Scenes are what most people associate with Wallace Nutting and they comprise the largest segment of his pictures. These include pictures of apple blossoms, birches, country lanes, streams, rivers, ponds, lakes, and fall scenes. Wallace Nutting worked out of Southbury, CT and Framingham, MA and sold a large percentage of his pictures in New England. Winters were long and cold and New Englanders generally desired pleasant, optimistic signs of the warmer weather ahead. As a result, these nice warm-weather Exterior scenes were his most popular and best-selling pictures and account for the largest percentage (85%) of Wallace Nutting pictures that may be found today.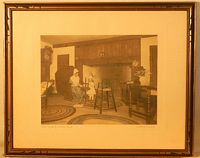 Colonial Interior Scenes were pictures photographed inside old houses and usually had women dressed in long dresses and bonnets, usually performing household chores such as cooking, sewing, etc. Some were done in primitive settings, others in more formal surroundings. They included period furniture, were quite charming, and demand for them was fueled by growing interest in America's Colonial Revival Movement. Although popular, they were not nearly as popular as the Exterior scenes and accounted for only perhaps 10% of all Wallace Nutting pictures.
Foreign Scenes were pictures taken by Nutting outside the United States. Wherever he traveled he took his camera and, on three trips abroad between 1904-1925, he took pictures in 16 different countries, mainly throughout Europe (e.g., England & Ireland) and the Mediterranean region. Foreign scenes often included bridges, castles, cathedrals, churches, cottages, gardens, landscapes, and other similar subjects.
Miscellaneous Unusual Scenes are basically any Wallace Nutting pictures that don't fit into the above three categories, including Animals, Children, Gardens, Men, People, Seascapes, and Snow scenes. All Foreign and Miscellaneous Unusual topics combined account for less than 5% of all Wallace Nutting pictures.
The peak of Wallace Nutting picture popularity was 1915-25. However no fad lasts forever and people eventually began to tire of them. And as Nutting's picture business was declining during the 1930's, he began seeking other subject areas into which he could expand.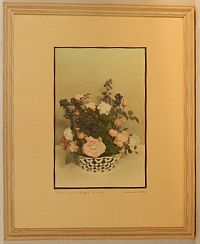 In an attempt to cater to the growing Women's Garden Club movement, one such area that he introduced was "Floral Still Life" scenes. "Florals" were close-up pictures of flowers in vases or bowls, usually arranged by Mrs. Nutting, and became somewhat popular. We wouldn't describe Nutting's Florals as rare, but since they were sold for only a few years (1930-40), during the poor-selling depression years of the 1930's, relatively few were actually sold and Florals are generally considered "unusual, but not rare" by most Nutting collectors.
And because they don't look anything like a typical Wallace Nutting picture, they are often overlooked by Antiques & Collectibles dealers. Hence, bargains are out there … if you know what to look for.

Here are a few of the identifying characteristics of Wallace Nutting Floral Still Life scenes.
Matted Florals: Many Florals were mounted upon a mat board, and usually signed with the "title" lower left beneath the image, and the distinctive "Wallace Nutting" signature lower right. Some mats had a slight indentation around the image, title and signature, while other mattings had a 1/4" non-indented black border around the image, with the title and signature beneath the border. Most "titled" Wallace Nutting matted Floral Still Life scenes are in the 13"x16" or 16"x20" sizes. "Untitled" Florals (picture with a signature but no title) are usually in the 8"x10"size.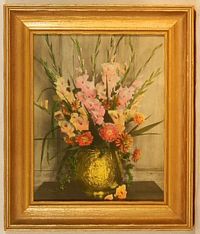 Close-Framed Florals: Many Florals were "close-framed", which means that there was no mat, and that the frame surrounded the picture itself. Most close-framed Florals were signed on the image itself, often in pencil (and not pen), but the signature was often overlooked because of its small size, especially on miniature or smaller pictures. Most close-framed Florals were smaller in size, ranging from 4"x5" (miniatures) to 8"x10", although a few 11" x 14" and 16"x20" close-framed Florals may be found.
Copyright Label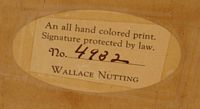 : Both matted and close-framed Florals often carried a Wallace Nutting "copyright label" on the backing paper, which basically guaranteed that the picture was an original hand-colored Wallace Nutting picture, and usually had the picture's "Wallace Nutting Studio Number" hand written on it. And it was this "hand-written studio # on the copyright label" that was often the only way to ascertain the picture's actual title on close-framed pictures.
There are approximately 60 different Floral scenes available to collect today so identifying the exact title of each picture has become fairly difficult for collectors. Some Floral titles are relatively common while others are extremely rare, and command a premium price.
Florals with the title written on the matting are obviously easier to identify than "Untitled" or close-framed pictures that aren't identified. Perhaps the biggest problem with Wallace Nutting's Florals is that the backing papers are all nearly 100 years old, have become extremely fragile and brittle and, many have been lost. And once the copyright label has been lost on closed-framed pictures, how do you determine the title of the picture?
We've tried to resolve this dilemma in two ways.
First by writing this column we've tried to help you better understand Wallace Nutting's Floral Still Life scenes.
Secondly, we've created a special web page devoted to Wallace Nutting's Floral Still Life scenes. If you are curious about a Nutting Floral title, simply go to this web page "www.WNutting.com/Florals.htm", and see if you can match your picture with its title. There is no charge for this service.
Known Wallace Nutting Floral Titles:
Above the Big Mahogany
Above the Mahogany (Same as above)
Basket Full
Basket of Forget-Me-Nots
Basket of Gourds
Bennington Jar
Blue Luster Pitcher
Cluster of Zinnias
Corner Decoration
Cosmos and Larkspur
Cosmos and Larkspur (different vase version)
Dahlia Jar
Dandelion Fluff and Buttercup
Day Lilies
Distinction
Figured Pitcher
Fleur de Lis and Spirea
Full Summer
Garden Harvest
Gladioli
Glass Bottle
Greek Vase
Harbingers of Spring
Hollyhocks
Iris Lilies
Jar of Posies
Jug of Dahlias
Knight Errant Vase
Laurel and Hemlock
Madonnas
Masque Pitcher
Meadow Lilies
Mexican Zinnias
My Cup Overflows
Painted Pitcher
Peonies and Syringa
Red Berries
Red, White and Green
Roses and Larkspur
Roses and Larkspur Clusters
Sheffield Basket
Spring Basket
Spring Glories
Summer Gowns
Summer Opulence
Sweet Williams
Tiger Lilies
Trumpets
Van Fleet Rose
Vanity and Constancy
Wild Rose Bouquet
Yellow Lilies
Zinnias
And if you have a Wallace Nutting Floral that doesn't appear on this page, please send us a photo and the title and we'll add it to the page (send to: info@michaelivankovich.com).

About the Author: Michael Ivankovich is an Auctioneer, Appraiser and Home Downsizing Specialist in Doylestown (Bucks County) PA and has been specializing in Wallace Nutting and other Early 20th Century Hand-Colored Photography for more than 35 years. He has authored numerous books on Wallace Nutting including the "Collectors Guide to Wallace Nutting Pictures".

His next Wallace Nutting Auction will be held on May 13, 2016 in Ft. Washington PA in conjunction with the 2016 Wallace Nutting Collectors Club Convention where over 20 various Florals will be sold. Further information can be found at: www.WNutting.com
Tags: Wallace Nutting, Michael Ivankovich, Hand Colored Photography, Floral Still Lifes, Wallace Nutting Florals