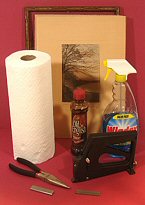 Whether you are thinking about selling your collection, or simply want to preserve it for long-term enjoyment, you may want to consider having your pictures cleaned and conserved. Clean pictures sell better than blemished pictures. And clean pictures show better in your home.
Most Antique pictures and prints have never been cleaned and the dirt and chemical build-up on both sides of the glass can detract from their true beauty and cause permanent harm to both the image and the matting.
But more important to the long term preservation of these pictures and prints, most still retain their original and highly acidic cardboard backings. Or even worse, many still have their original wooden backings, which can be 10 times more highly acidic than cardboard backings. And it is these highly acidic original cardboard and wooden backings that are most often responsible for mat foxing and discoloration.
A simple cleaning, with the addition of an acid free separator, a new acid free backing board, and a new backing paper, can do wonders to prevent future aging, discoloration, and permanent damage to your pictures and prints.
Over the years we have received literally thousands of inquiries from individuals requesting current value information on their picture, whether their pictures were authentic or fake, and where they could have their pictures cleaned and restored to their original beauty.
In response to these requests, Michael Ivankovich Antiques offers the following Cleaning, Conservation, Preservation, Research, and Authentication services. For those individuals who feel that they may need these services, we will:
Remove the picture and mat from the frame.
Confirm any information on the back of the picture.
Polish the glass and frame.
Dry Clean the mat to remove any dust and dirt.
Remove the old and highly acidic original cardboard or wood backing board, and replace it with an acid-free separator, as well as a new acid-free backing board, to protect against future foxing and mat discoloration.
Re-back the frame with heavy-duty backing paper to protect against future dust and dirt.
Add new eye screws and hanging wire of appropriate size and weight.
Research each individual title for important information such as location, WN Studio #, approximate age & date, rarity, and any other special information that may be found
Provide an Estimated Current Value of what the picture might bring at one of our Catalog Auctions.
Affix a Michael Ivankovich Antiques Label of Authenticity to the picture backing which will contain the following information: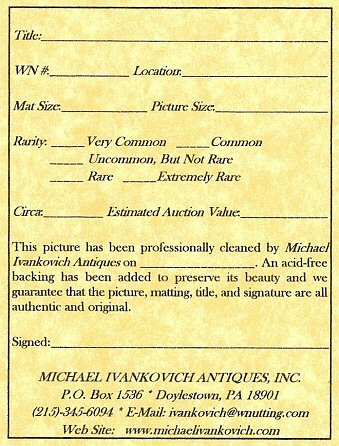 Cleaning, Conservation & Preservation Rates
Complete Cleaning, Conservation & Preservation Service, which includes all Points #1-10 above: $40
Replace Glass: Add $5 - $15 (depending on glass size).
Return shipping is added at cost.
Please Note: We do not perform any mat bleaching or stain removal.